As Printed Circuit Board technology has continued to evolve, it has paved the way for the creation of a host of exciting product innovations. A prime example is the development of the PCB for LED lighting. The LED is soldered to the circuit board and features a chip that produces the light when electrically connected. A thermal heat sink and a ceramic base are used to bond the chip.

An LED PCB Board tends to generate a high volume of heat, making it difficult to cool via traditional means. Consequently, metal core PCBs are frequently chosen for LED application due to their enhanced ability to dissipate heat. Aluminum in particular is often used to manufacture circuit boards for LED lights. The Aluminum PCB typically includes a thin layer of thermally conductive dielectric material that can transfer and dissipate the heat with much greater efficiency than a traditional rigid PCB.
PCB = printed circuit board and PCBA = Printed Circuit Board Assembly. For PCB, it means the copper circuits be printed on a board, and so the main composition of PCB are copper and board.
The copper is the circuits material and the circuits designed by the PCB designers. Depends on the current in the circuits, the PCB copper thickness could be done with 0.5oz-10oz. But the PCB designers need be noted that the copper track width/space need be enlarged with the thickness. For example, the minimum copper track width/space could be 3mil/3mil with 0.5oz, but would be 4mil/4mil with 1oz.
The PCB Board could be rigid PCB, could be flex PCB and also could be Flex-Rigid PCB. And the materials could be FR4, PI, Aluminum, Copper-based, Rogers, Teflon, etc. They have different applications. For example, FR4 PCB is the most commonly used for rigid PCB and almost good for all electronics products; PI is the most commonly used for flex PCB; Aluminum and copper-based have good thermal diffusivity and always used for LED PCB ; Rogers PCB and Teflon PCB are always used for High Frequency PCB, etc.
We are the one-stop shop for all kinds of PCB manufacture service from PCB Prototype to big volume, which could save our customers a lot of time and money.
PCB Manufacture Capabilities
| | |
| --- | --- |
| Features | Capabilities |
| Layers | 1-36 layers |
| Material | FR-4, Aluminum, Copper, Polyimide, high frequency (Rogers, PTEE, PI), etc. |
| PCB Type | FR-4 Standard PCB , Aluminum PCB, Copper-based PCB, HDI PCB , Rigid-Flex PCB, Flex PCB, Thick Copper PCB and Rogers PCB, etc. |
| Board Thickness | 0.1mm-6.0mm |
| Copper Thickness | 1/2oz-6oz(18um-210um) |
| Biggest Board size | 600mm*1200mm |
| Min Tracing/Spacing | 0.075mm/0.075mm (3mil/3mil) |
| Min drilling Hole diameter | 0.15mm(6mil), 0.1mm(4mil)-laser drill |
| Solder Mask | Green, Black, White, Red, Yellow, Blue and Purple, etc. |
| Silkscreen color | White, Blue, Black, Red, Yellow |
| Surface finish | HASL Lead free, Immersion Gold (ENIG), Immersion Tin, Immersion Silver, OSP, Carbon oil, etc. |
| Special Techniques | Impedance Control, Gold Fingers, Blind/Buried vias, Peelable solder mask, Half holes, Via-in-Pad and Countersink hole, etc. |
PCB Products Show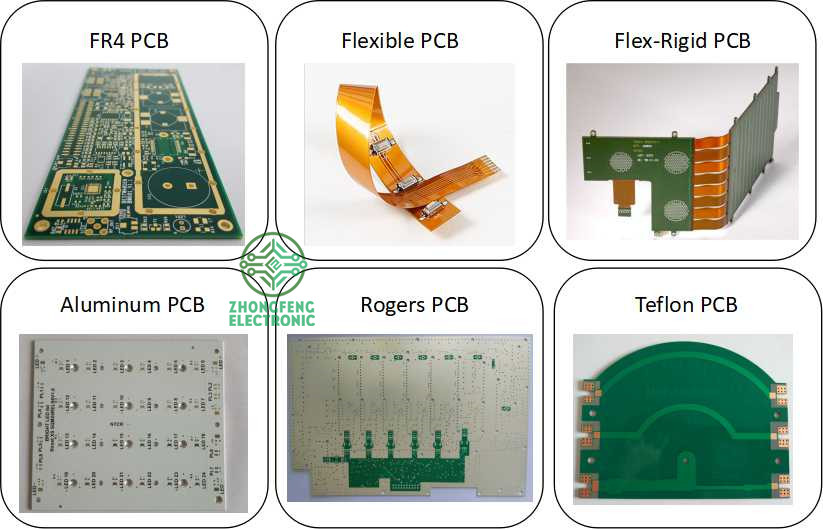 PCB Factory Show