Standard PCB or A PC board ( PCB or Printed Circuit Board) is at the heart of virtually every electrical device. As the PC board manufacturer in Shenzhen China, we are firmly committed to the highest possible levels of quality and innovation in all of our PCB Fabrication processes to ensure that each and every circuit board that leaves our facility is ready to exceed expectations. All PCB boards would be tested well before shipping.

ZhongFeng has been a PC board manufacturer for the past 15 years and specializes in working side-by-side with visionary engineers and buyers in the High Frequency RF/Microwave, Audio, Defense and Medical industries (among others) to create solutions for ever-advancing printed circuit board concepts and designs.

The copper is the circuits material and the circuits designed by the PCB designers. Depends on the current in the circuits, the PCB copper thickness could be done with 0.5oz-10oz. But the PCB designers need be noted that the copper track width/space need be enlarged with the thickness. For example, the minimum copper track width/space could be 3mil/3mil with 0.5oz, but would be 4mil/4mil with 1oz.
The PCB Board could be rigid PCB, could be flex PCB and also could be Flex-Rigid PCB. And the materials could be FR4, PI, Aluminum, Copper-based, Rogers, Teflon, etc. They have different applications. For example, FR4 PCB is the most commonly used for rigid PCB and almost good for all electronics products; PI is the most commonly used for flex PCB; Aluminum and copper-based have good thermal diffusivity and always used for LED PCB ; Rogers PCB and Teflon PCB are always used for High Frequency PCB, etc.
PCB Manufacture Capabilities
| | |
| --- | --- |
| Features | Capabilities |
| Layers | 1-36 layers |
| Material | FR-4, Aluminum, Copper, Polyimide, high frequency (Rogers, PTEE, PI), etc. |
| PCB Type | FR-4 Standard PCB, Aluminum PCB, Copper-based PCB, HDI PCB , Rigid-Flex PCB, Flex PCB, Thick Copper PCB and Rogers PCB, etc. |
| Board Thickness | 0.1mm-6.0mm |
| Copper Thickness | 1/2oz-6oz(18um-210um) |
| Biggest Board size | 600mm*1200mm |
| Min Tracing/Spacing | 0.075mm/0.075mm (3mil/3mil) |
| Min drilling Hole diameter | 0.15mm(6mil), 0.1mm(4mil)-laser drill |
| Solder Mask | Green, Black, White, Red, Yellow, Blue and Purple, etc. |
| Silkscreen color | White, Blue, Black, Red, Yellow |
| Surface finish | HASL Lead free, Immersion Gold (ENIG), Immersion Tin, Immersion Silver, OSP, Carbon oil, etc. |
| Special Techniques | Impedance Control, Gold Fingers, Blind/Buried vias, Peelable solder mask, Half holes, Via-in-Pad and Countersink hole, etc. |
PCB Products Show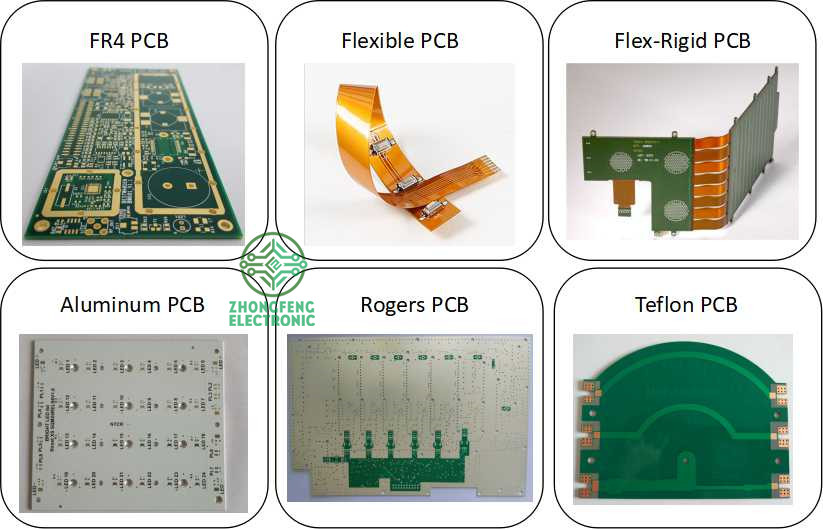 PCB Factory Show